The kitchen with a central island is a strong trend of decoration for spaces that allow this type of application, adding functionality and practicality in the daily life of the house. In addition to being a modern item, it gathers family and friends in a pleasant and practical environment in everyday life. The union between the living room and the kitchen is much more common and has the advantage of unifying spaces, a larger area for circulation, and the absence of walls.
Tips for decorating a kitchen with a center island
Before designing your kitchen with an island, some factors influence the project's final result and must be taken into account so that everything is perfect.
Define the space
When designing planned furniture, the island's space must be clearly defined in the plan, respecting the minimum distance between the bench and maintaining adequate circulation space. The minimum recommended size is 0.70 cm for spaces without doors.
Lighting
Lighting is another crucial point in the design of kitchens with an island: it must be direct, with spots or lamps that leave the area well lit when cooking and making meals.
Other points
The choice of materials is fundamental and must follow the proposal of the kitchen as a whole, respecting the material of the kitchen countertop. The most requested are Silestone, marmoglass, marble, granite, wood, and concrete.
We have separated beautiful kitchen models with a center island for you to be inspired today to facilitate your viewing. Check out:
 Model of a planned kitchen with island
 In this kitchen design with island, the base is made with travertine marble and the countertop with white stone in the   Silestone style.
 Kitchen project with island and table
  The central island has a wooden table, geometric chairs, and an electric cooktop area and shelves.
 Island design with hood
 Extensive island with bar furniture next to it.
 Here, the Fendi color is the main highlight of the environment decoration
 Central island with white stone and double oval hoods
 In a kitchen with wine-colored tones in evidence, white was used on the countertop with the cooktop. The drawers follow the tone of the wood.
 Island design with hood for the hood and built-in TV
 In this project, the hood panel has a built-in TV. The choice of cabinets and furniture was given by the white color, in contrast to the woody hue of the floor.
 Kitchen design with dark tones
 This island still has two wooden stools with golden metallic support. There is a cooktop with a modern stainless steel range hood and a vat with a gourmet tap.
 Kitchen design with center island and dining table
 In this kitchen, the island separates the dining room and the kitchen, including different floor materials.
 Central island with São Gabriel granite and wooden bench
 São Gabriel granite is a popular choice for cladding kitchen countertops.
  A clean proposal with modern material in contrast to red
 In a clean kitchen proposal with white in evidence, red was the choice for chairs, decorative accessories, and appliances.
 Central island with black granite São Gabriel
 Gourmet kitchen with island that follows the same lining material as the countertop, also featuring 3 red stools.
 Kitchen with island and countertop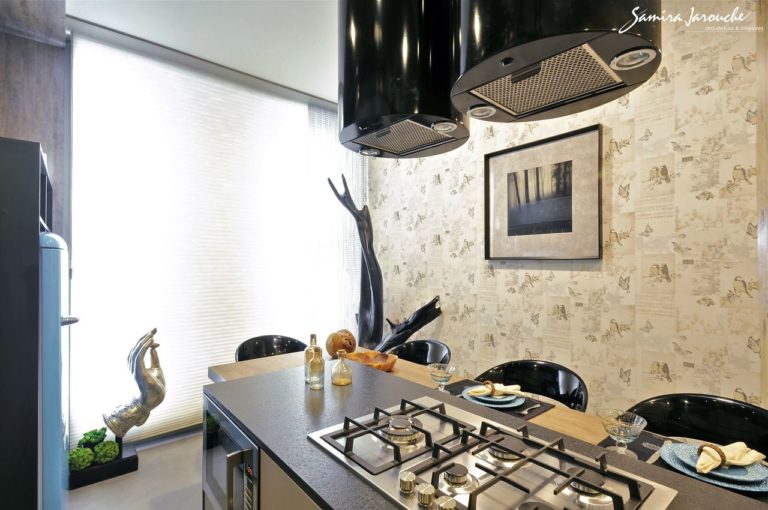 Central island design with stainless steel cooktop and wooden bench with black chairs.
 Kitchen design with the island in the middle
 Here, the island accompanies the stainless steel material and has two black chairs.
 Large kitchen in a leisure area with island
 Planned kitchen design with center island and blue cabinet doors
 Central island with cooktop and copper chandeliers
 Kitchen with center island and glass countertop
 Central island with hood and gourmet faucet
 Island design with
 Kitchen island design with modern dining table
 Island on the balcony
 Kitchen with center island and brown countertop
 With cooktop stove
 Kitchen with cooktop stove and island
 Large central island in a leisure area with kitchen
 Kitchen with white center island and wooden countertop
 Central island with white counter, sink, and dining table
 Kitchen design with island, white countertop, and gourmet faucet
 Central island with grey stone and wooden bench
 Kitchen with center island and double carved sinks
 Kitchen with small island and cooktop
 A kitchen island with an elegant cooktop
 Center island in a large kitchen
 Wide center island countertop for kitchen
 Kitchen with a central island in minimalist design
 The concrete central island reinforces the industrial style
 Central island with white stone and large stainless steel hood
 Kitchen with large center island
 Kitchen with island and black stone
 Narrow island for a small kitchen
 Kitchen with wooden island, cooktop, and hood.
 Design with wooden bench and island with cooktop and hood
 American style kitchen with center island and wooden countertop with metal chairs
 Kitchen with center island
 Black stone central island and wooden bench
 ​​Central island with grey bench and dining table
 Central worktop with cooktop hood
 Black kitchen design with center island
 Kitchen with central island cooktop and red chairs
 Kitchen with center island