Children… they're such fun filled adorable packets of joy. You want to give them all the love and care they'd need and more. But when it comes to designing their room, many parents are in a rut. So many options for the walls, furniture, curtains, beds, aaarrggghhh……it's just so tough to decide on one. But fret not, because today we bring to you a "30 Best Kids Bedroom Furniture Ideas" collection, to get you started.
Planning is very important in creating your child's room. It needs to be both fun-ctional(pun intended) and appealing to the eye as they are going to spend a lot of time in there. You might wanna start with painting the walls their favorite color and maybe include their favorite superheroes when you're doing furniture and linen shopping. Yet one of the challenges remain; you want to make your child's room look the best it can but you don't want to break the bank in doing so, understandably. All the ideas shown here are particularly the best in their price bracket and would open up a lot of affordable and fun ideas that might not have crossed your mind otherwise.
And who said kids rooms can't be modern and trendy ? We've specially included some modern and trendy looking rooms with excellent choices of kids bedroom furniture that would leave you amazed. So let's look at some new trendy ideas that would certainly help you.
Kids Bedroom Furniture
All White Contemporary Playroom Decor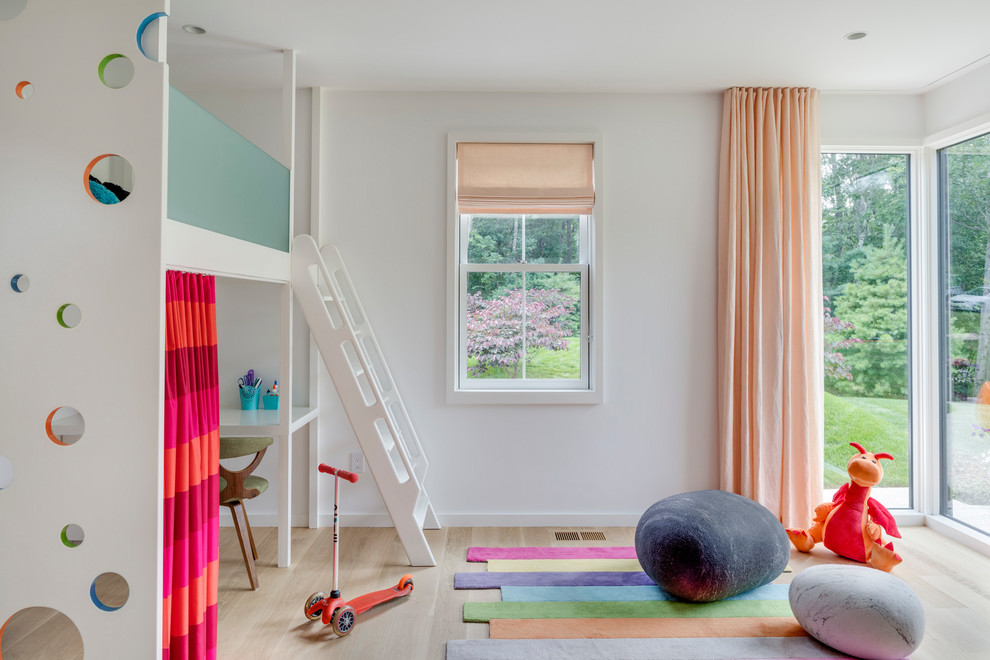 This minimalistically designed bedroom is a perfect example of how less is more. You don't want your kids bedroom stuffed with furniture, but rather some colorful beanbags and soft toys that go with the decor and lots of space for them to play around.
Balinese Inspired Kids Bedroom Furniture
You want elegant ? You've got elegant. This particularly colorful bedroom would surely put a smile on your little ones's face. The color palette nicely brings out the reds, blues and greens with an artistic flower vase included for a natural touch.
Beach Style Kids Bedroom With Multiple Bunk Beds
This is a beach style gender neutral kids' bedroom with bunk beds. Bunk beds surely save up a lot of space and all you have to do is throw in a bedside table and decide on a cool vibrant linen design that brings out the whole beach theme. White and blue stripes with a printed pillow set does justice to the whole idea.
Colorful Twin Low Loft Bed
Simple and fun. The area under the bed serves as a mini-play area where your little one could sit and read or store their toys. The bunk bed above is accessed by full length guardrails which makes bed time a fun activity. All sailors climb aboard…Ahoy!
Contemporary Kids Bedroom With Twin Single Bed
Short on space ? You could try out this twin single bed strategy with contemporary dark wood floor and a soothing palette of lush textures and uplifting hues. This leaves out ample space for a study table or a workspace and a couple chairs. The shelf above the bed makes sure that there aren't any books or toys lying around.
Contemporary Retro Inspired Kids Bedroom
Contemporary and Retro ? Yessir… this small trendy girls' room looks very pretty with the printed shades and the colorful bed linen. Add to that a white table and chair and you're talking absolute contemporary. The colorful lights above are a fun add on which would bring everything in this room to life.
Contemporary Small Bedroom With White Walls
Take a look at this modern and trendy kids' room design in New York with white walls and white furniture. When thinking of kids bedroom furniture you always think of colorful. But here as we see, single tone color palettes can be fun too.
Eclectic Boy Wood Floor Bedroom
Rock away on these rocking horses that double up as show pieces. The colors brought about by the chair and the suspended table is a nice compliment to the light colors of the walls and the bed. The colorful scattered design on the wall also adds to the fun vibe of the room.
Eclectic Kids Bedroom With Bunk Beds
What fun would a teepee tent be right in your bedroom! A light pink double bunk bed that goes very well with an elegant white dressing table and a thin framed chair that adds a royal feel to the decor, truly fit for a princess. You could get creative with the main linen colors.
Farmhouse Kids Bedroom With Reclaimed Wood Wall
A country side bed and breakfast theme for kids bedroom furniture ? This fun attic idea is brought to life by green walls, brown bed frame and a cute red side table. Add wall accessories like the railroad crossing sign or the route 66 one as shown to get as authentic a feel as possible.
Farmhouse Style Kids Bedroom With White Walls
Creative and trendy. This modern kids bedroom is fit for four, that too with a lot of empty room to spare. The wall cupboards attached to the bed walls make sure no extra clutter is made for the sake of storage. A wooden coffee table with an art piece and some cushioned seats on the side and you just complete an amazing room layout.
Girl's Attic Bedroom Design
Don't you just love this awesome and clean design for a girl's attic bedroom. The bright colors for the bed sheets and the chandeliers are the main focal points in the room. It brings a nice little contrast with the subtle color palette used for the walls and the furniture. Add a small chest with the little one's name on it and you can save up on some decluttering afterwards.
Huge Rustic Bunk Beds With Private Curtains
If you're planning to put in multiple beds in the same room, then this is the way to go. The rustic gender neutral colors and give out nice, cozy vibes and the added curtains provide for privacy. Matching the curtains with the pillow covers would be a good idea in this case.
Industrial Style Kids Bedroom
Planning on an industrial themed bedroom for your young one ? The wooden cot and bedside table are as sturdy as you need them be with added lockable support wheels for ease of movement. The brick walls and the road signs along with the rustic curtains completes the look.
Mediterranean Style Furniture With Multiple Bunk Beds
Olive green bunk beds with matching linen and an eloquent rug really go well for this old school looking elegant kids room. Just add in a comfortable chair and a wooden furniture and that pretty much does the job for this dark wood floored mid sized kids room.
Mid Sized Craftsman Bedroom
Forest is the theme for this one. You can never go wrong with fun animal prints even though the rest of the room has a very simple color palette. The greys of the furniture go very well with the fun striped curtains but the icing on the cake would be the wall decor that really brings out the forest-y vibes.
Midcentury Modern Style Bedroom Furniture With Multiple Walls
Star Wars much ? These futuristic egg chairs and the R2D2 pillows would certainly make any star wars fan happy. The light sabre wall decor and a matching linen make the room all the more fun. The bed has space beneath it giving your kids a fun cave for all their playtime shenanigans.
Modern Neutral Carpet Kids Bedroom Furniture
Here's a nice minimalist gray floored kids room. The soft toned bed has a foldable seating area at its foot which kinda removes the need for an additional chair. The fun part of this room is the climbable wall on the side which the kids are definitely gonna love.
Mountain themed Kids Bedroom Furniture
Mountains are in. Feel a little adventurous with this mountain themed furniture and decor, the wooden raw finish of the beds and the bunk beds and added tree trunk pillars. I, for one would definitely get at least on of my rooms done this way.
Scandinavian Girls Bedroom With Floral Wallpaper
I'm so liking the whole floral theme that seems to be going on here. A cute little bed with side railings and a matching white bedside table for your little girl, quite the perfect choice I'd say. The two toned round table with seats around would be perfect for playtime tea or other fun activities.
Scandinavian Kids Bedroom With Beige Walls
Feels like something out of a futuristic movie doesn't it ? Well this room layout based in London has a nice two tone wallpaper and a contemporary bunk bed design that is both functional and aesthetic. The bedroom furniture mainly has a mini study table and a contrasting chair. The offset lamp design is an added accessory to the whole look.
Shabby-Chic Style Bedroom With Large Wallpaper
This is a simple yet elegant kids room idea with oversized wallpapers that go well with the bed linen colors. A green cot and a light blue bedside table add to the idea of the room being simple yet kid friendly.
Small Transitional Bedroom Furniture With Twin Beds
Chic and modern. The twin bedroom idea shows how well one can manage space with a little design tweak. The dark blue wall panels that go perfectly with the bed linen are something spectacular and the cupboard space above makes sure that storage is not an issue.
Traditional Bedroom For Boy
This is based off a more classic and elegant theme with an old school bed and a dark wood furniture set of side tables and a dressing table that go so well together. Bedroom furniture taking up too much space ? Just shift the play area above as shown and that is taken care of.
Traditional Girl Carpeted and Gray Floor Kids
Timeless would be the perfect description for this particular decor. The bed, side table and the cupboard are all kept white so as to go with the abundance of pink. Add a stuffed toy rack and a lit ceiling fan and this would be fit for royalty.
Transitional Artsy Blue Teen Room
This artsy bedroom has a bright blue wall that sets the mood for the room. Adding a side table or two would be a good idea if you've got the space for it and a fun bean bag has become a staple these days to be included in kids room furniture, because, why not ?
Transitional Dark Wood Floor Boys Bedroom
Transitional dark wood floor kids' room idea in New York with gray walls
Trendy Modern Colonial Style Boys Bedroom
Black and White. As different the colors are, they go so well together as you can see. The bright yellow center table and the ultra modern shelf nicely brings out a little contrast in this trendy New York kids' room with a blue-white rug to go with the whole decor.
Tropical Beds With Matching Decor
Hawaii has a lot of well designed kids room, the above example being one. The dark wooden beds and headboards go very well with the mid toned side table and windows. A false ceiling with colorful attractive lights setup could be magical at night when switched on.
Victorian Style Furniture Ideal For Girls
This ornate girls' room with the pink and green furniture might be something out of an old tale but is quite trendy if you ask me. Most of all, the decor truly adds a nice playful touch to the room's design while keeping the vibes quite cozy.
That was 30 kids bedroom furniture ideas that we thought might help you in designing your own kids rooms. Do take a look at the other bedroom decor ideas if you want more inspirational concepts that you could use in your own designs.