Christmas wreaths are the best decoration we can use in our front door during the season of xmas. There are lot of beautiful and creative wreaths designs available in market. But to save time and creating unique wreaths we need to purchase simple plain wreaths and decorate them according to our ideas and expectation with Christmas ornaments that we have at home.
A handmade wreath not only gives you  a unique design but also add a festive touch to your home, after all the front door is the focal point of the home when a visitors or guest entering your home. Christmas wreaths offer a wide variety of decoration ideas . Christmas wreaths are considered according  how it is made most probably there are three types of wreaths – artificial wreaths, dried wreaths and fresh Christmas wreaths. Today we are showcasing here "22 Christmas Wreath Ideas For Your Front Door" checkout and get inspired by this collection. Merry Christmas!
Christmas Wreath Ideas For Your Front Door
Eclectic Christmas Wreath
Modern Entry Christmas Wreath
Happy Holidays Christmas Wreath
Farmhouse Entry Christmas Wreath
Red Christmas Front Door Wreath
Transitional Front Door Christmas Wreath
Traditional Front Door Christmas Wreath
Stunning Front Door Christmas Wreath
Southwestern Style Front Door Christmas Wreath 
Rustic Entry Door Christmas Wreath
Nice Christmas Wreaths
Mesh Garland Christmas Wreath
Mediterranean Front Door Christmas Wreath
Front Door Christmas Wreaths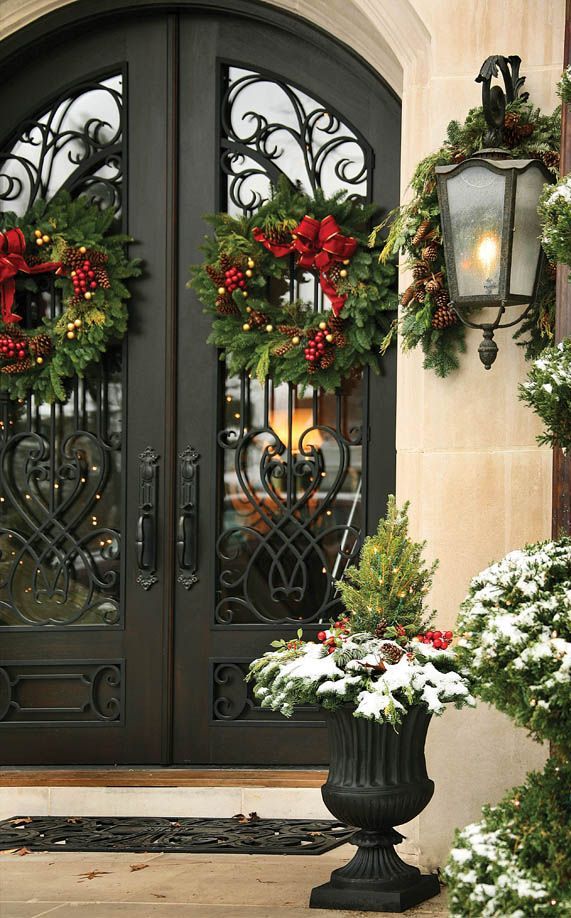 Framed Christmas Wreath
Fantastic Small Christmas Wreath
Contemporary Christmas Wreath
Colorful Front Door Wreath
Big Front Door Christmas Wreath
Beautiful Christmas Wreath
Beach Style Christmas Wreath
The Christmas wreath holds the tradition which shows goodwill and fortitude. The reason behind celebrating this festival is to forget all sad things and enjoy the festival with full fledged.
Related Posts You May Enjoy:
23 Amazing Contemporary Outdoor Design Ideas | 15 Beautiful Outdoor Design Inspiration