The main benefit of home improvement project is that they put you in the driver's seat so that you can determine exactly how your home will look. The kitchen is definitely one of the most important rooms in the house and its remodeling work can get real tricky and one of the most important things for the kitchen to look good and complete is the cabinet. We welcome you to our latest collection of 20 Contemporary Kitchen Cabinets Design Ideas. Checkout and get inspired for the best cabinet design for your kitchen.
If you want your kitchen to look dazzling and valuable with clean lines and an organized look, then you might want to consider upgrading yourself to contemporary kitchen cabinets. Doing so would give you more options to choose from, right from the materials that you would use to the kind of style that you would want your cabinets to have. There are different varieties of kitchen cabinets available in the market nowadays to choose from, some of them are:
Made From Wood: Probably the most popular and the chosen material when it comes to contemporary kitchen cabinets is wood, where you could choose from the different kinds of wood that you would like to be used for your kitchen cabinets.
Metallic Appeal: On the other hand, one of the fastest growing trends in contemporary kitchen cabinets right now are the ones that were made from metal that promises to give you long lasting durability and low maintenance cost. Some creative thinking is definitely required to come out with amazing ideas.
Contemporary Kitchen Cabinets Design Ideas
Angular Contemporary Kitchen With Curved Cabinets
This all white and contrasting color combination kitchen with a garden view is just like a dream come true. The Italian curvilinear kitchen island, with integrated appliances, has been angled to face the glazed wall and dramatic views in this contemporary kitchen design.
Contemporary Citrus Kitchen
All that space and bright colors really adds to this kitchens desirability. To make the kitchen look bright and energetic, a splash of lime color has been added to this otherwise monochrome kitchen alongwith matching appliances and furniture are used.
Contemporary Concrete Kitchen
The stairway which is directed to the kitchen area is something really new and unique. The use of raw materials like shuttered and polished concrete and timber to add greatly to  the contemporary style. Elements of gold are present to add a sense of luxury.
Contemporary Kitchen With Laminated Cabinets
Check out this kitchen design in a combination of white and grey colors with matching laminated cabinets. The use of hard wood flooring to complete the look with appliances that go with the color palette is just awesome.
Contemporary Kitchen With White Cabinetry and Counter tops
Check out this kitchen design with all white walls and flooring and shining counter tops of white crystallized glass the modernize the whole kitchen design.
Glossy White Surfaces Contemporary Kitchen
Checkout this glossy white surface kitchen cabinets idea with aglass back splash that sets the tone for this polished kitchen with very limited accessories. A hood has been added above the gleaming Caesar stone island, where dessert is served.
Open Plan Kitchen Island Cabinets
This Bulthaup kitchen features contemporary grey cabinets and stainless steel worktops, while slip-resistant ceramic floor tiles run seamlessly out to the patio.
Silver Grey U-Shaped Kitchen
Just have a look at this U-shaped layout that combines a trendy color combination of Silver Grey with graphite handle less railings and stunning granite worktop to create a striking look. Open shelving provides practical and decorative storage.
Simple and Sleek White Kitchen Cabinet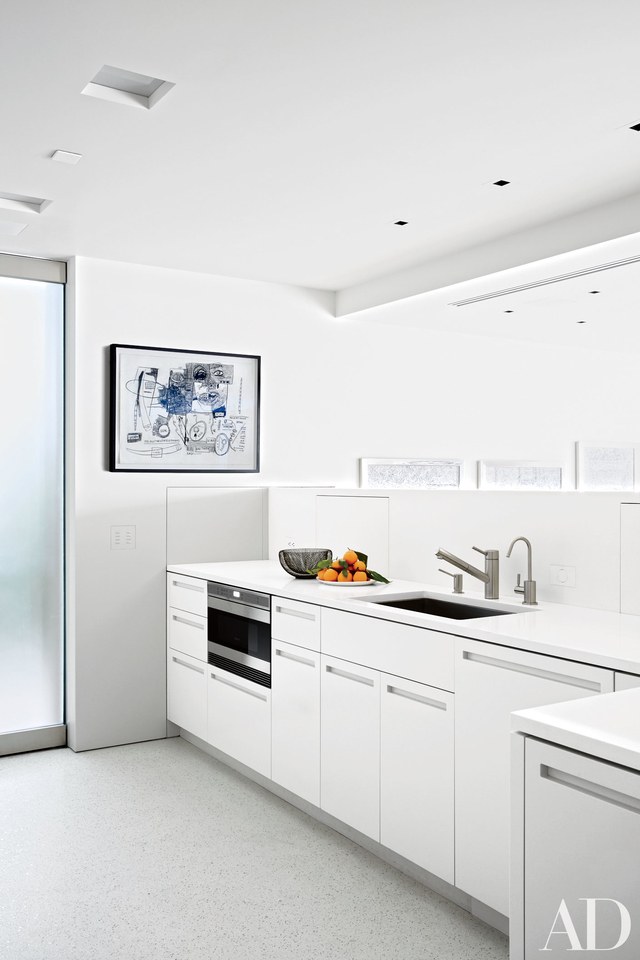 Check out this kitchen, which features a Basquiat drawing, is appointed with Caesar stone counter tops, KWC sink fittings, and a Wolf microwave.
Stylish Monochrome Scheme Contemporary Kitchen
This kitchen design in a color combination of black and grey walls and grey Caesar stone worktops and black and white gloss units, this modern kitchen has a striking, contemporary feel. The halo pendant lights above the island, and the interesting exhaust fan make the kitchen resemble a spaceship, rather than look like a kitchen.
Stainless-Steel Accents Kitchen Cabinets
Check out this kitchen design with a contrasting combination of white and grey with domed pendant lights by Artemide hanging above the topped island.
Contemporary Galley Eat-in Kitchen
Check out this contemporary galley eat-in kitchen with a single-bowl sink, flat-panel white cabinets, gray glass sheet back splash, paneled appliances and white counter tops to complete the look.
Contemporary Kitchen Looking Into The Great Room
this is a very beautiful piece of a kitchen design with antique reclaimed wood ceilings and sleek grey lacquered cabinets. Concrete and stainless counter tops. The choice of Travertine flooring in a vertical pattern to compliment the look of the kitchen adds another subtle gaining to the room.
Contemporary Kitchen With Stainless Steel And Chrome Hardware
Check out this contemporary kitchen with stainless steel appliances, a double-bowl sink, black cabinets and metallic back splash.
Galley Dark Wood Floor Open Concept Kitchen With Shaker Cabinets
This is a beautiful kitchen cabinet design that everyone would fall for. The choice of mid-sized trendy galley dark wood floor open concept kitchen design with blue colored shaker cabinets, marble counter tops, stainless steel appliances and a farmhouse sink is just awesome.
High Gloss Colorful Kitchen With Ceiling Cabinets
In this kitchen the cabinets are connected to the ceiling to make the kitchen look more spacious and organized. High functionality for an avid cook, storage facility, long lasting durability and enough beauty to be sitting in the living room.
Large Trendy U-shaped Kitchen With Flat-panel Cabinets
Check out this Large trendy u-shaped ceramic floor open concept kitchen design in Orange County with a farmhouse sink, flat-panel white cabinets, quartzite countertops, white backsplash, stainless steel appliances and an island.
Mid-sized Contemporary L-shaped Kitchen
Check out this mid-sized contemporary l-shaped ceramic floor eat-in kitchen with flat-panel white cabinets, brown back-splash, an under mount sink and stainless steel appliances to complete the look of the kitchen.
Trendy Kitchen With Glass-front Cabinets And Dark Wood Cabinets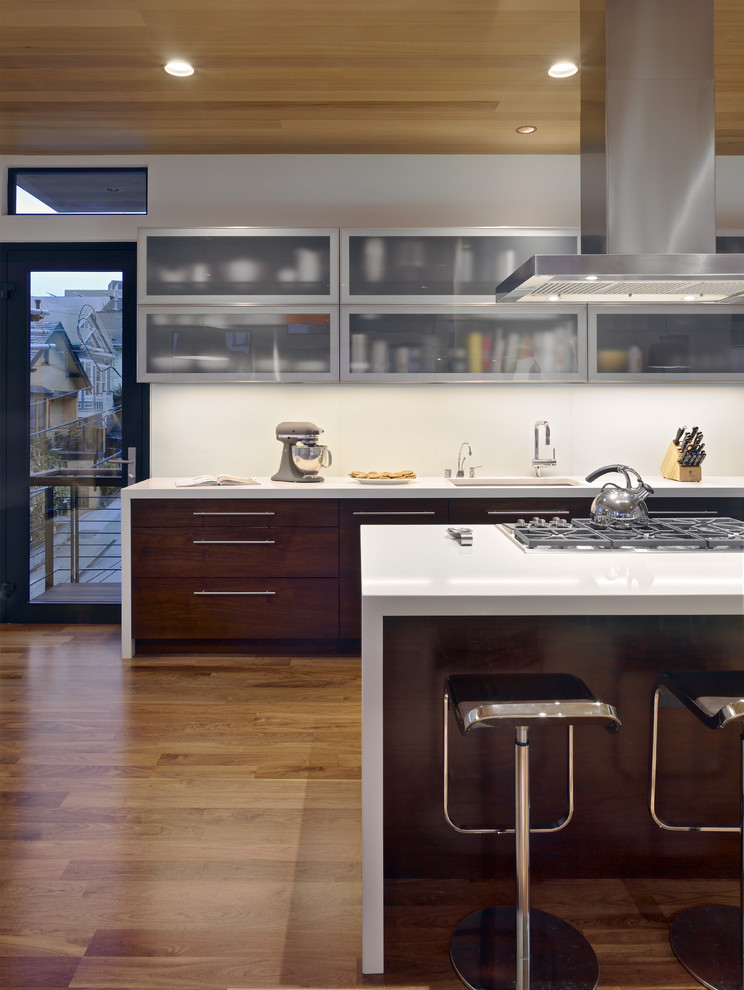 This contrasting cabinet finish work really well if you are planning to install mismatched cabinets. Dark wood lower cabinets and frosted glass upper cabinets play off dark/light and opaque/transparent opposites.
U-shaped Light Wood Floor Kitchen With Dark Wood Cabinets
Check out this Mid-sized trendy u-shaped light wood beige floor open concept kitchen with an undermount sink, flat-panel cabinets, stone tile backsplash, paneled appliances and an island to make the space look awesome.