We welcome you to our latest collection of 15 Master Bedrooms With Hardwood Flooring. Checkout and get inspired.
A bedroom is different as compared to all the other rooms in any house. It is our own sanctuary that reflects our own personality and our comfort. It is a place to rest, unwind and relax after a hard day at work. The decor of any bedroom should match the purpose it is meant to serve.
When it comes to master bedroom decorating ideas, the rule is to stick to understated, calming and comfortable decor. A gleaming hardwood floor can be so beautiful to behold. Beyond the aesthetics, hardwood floors increase value of the whole house, has versatility in interior decorating of the home and has health benefits.
If one has used quality hardwood flooring then it can definitely increase the value of the complete look of the home. The durability of hardwood has improved due to advances in technology processes. Checkout our latest collection and get inspired.
Master Bedrooms With Hardwood Flooring
Simple choice of furniture for this master bedroom that allows the natural beauty of the room itself to shine through.
Usage of old retro style furniture and a blue and turquoise color scheme to make even the richest queen blush.
With a luxurious rug beneath the ornate bad to guard against cold morning, this master bedroom sports a classic, luxurious look.
Usage of simple and modern furniture pieces to create a welcoming atmosphere for the guests.
There's a lot to love and adore in this master bedroom, especially the dramatically separated office area.
The combination of the dark hardwood floors and the unique canopy bed are contrasted beautifully with the cream-colored walls to create a dramatic look.
The combination of black and white aesthetic makes the hardwood floors to interplay nicely with the views of the outside foliage.
Each and every element in this stunning master bedroom with hardwood floors is beautiful and elegant.
With a stunning chandelier hanging on the ceiling to create a bright and airy look.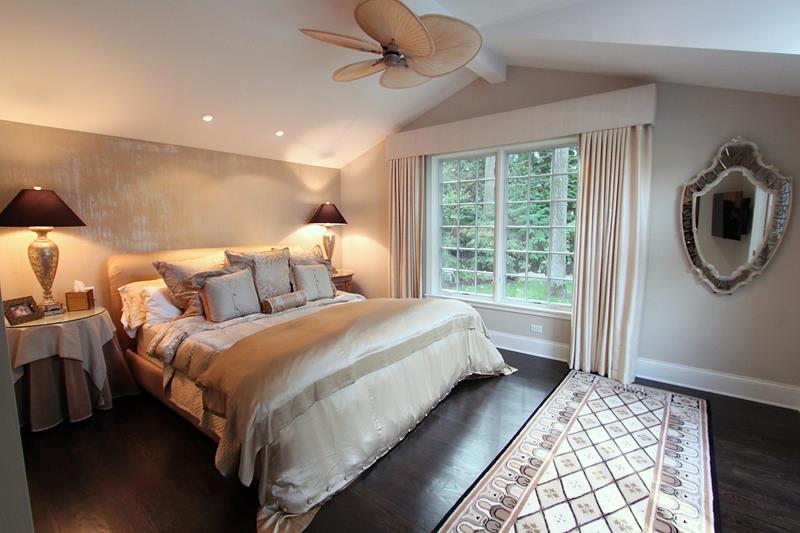 The usage of dark hardwood floors of this master bedroom are accented by the bold white rug and cream-colored bed linens.
A dramatic fake wall provides the focal point to this master bedroom.