An attic can work as an additional space to the room. It can really add space and value to the whole of the net worth. And if it's in a kitchen then there is no need of describing its advantages. If you are looking for some awesome ideas to decorate an attic in your kitchen then check out our latest collection of 15 Charming Attic Kitchen Design Ideas and get inspired.
An attic renovation is a smart way to increase the living space in your home! Attics can be decorated in the most modern and beautiful ways. A well-remodeled attic can make you house a posh loft which can add real value to the house.
Decorating an attic kitchen can get a little tricky because the appliances and the utilities need to be fitted into the given space otherwise it will look haphazard and unorganized, but there is no need to worry. With our help and our useful tips and ideas, styling an attic kitchen is an easy, fun and amusing thing to do, check out our gallery and get inspired.
Charming Attic Kitchen Design Ideas
Attic American Kitchen Design
This American Attic Kitchen design is a well built with the combination of light wood ply and wooden furniture and colorful tiles. The wooden attic design and the lights on the ceiling are just breathtaking.
Attic Beach Style Kitchen Design
This beach style kitchen design is no less than a restaurant. The coastal l-shaped kitchen design in combination with white appliances, shaker white cabinets.
Attic Black and White Kitchen Design
Black and white is always a great combination and the most liked one too. Check out this amazing contemporary attic kitchen design in contrasting black and white color combo that shows style, character, and sophistication.
Attic Brick Backsplash Kitchen Design
Attic Contemporary Kitchen Design
This is a beautiful inspiration for a contemporary l-shaped kitchen remodel which is in London with flat-panel white cabinets, stainless steel appliances, and an island platform for that perfect look.
Attic Eclectic Kitchen Design
This Attic Eclectic kitchen design in Burlington with open cabinets and wooden and vintage furniture all over is just unique and energetic.
Attic Farmhouse Kitchen Design
Check out this farmhouse enclosed kitchen remodel in Austin with open green colored cabinets, and the appliances hanged so nicely and in an organized manner.
Attic Industrial Kitchen Design
Attic Modern Kitchen Design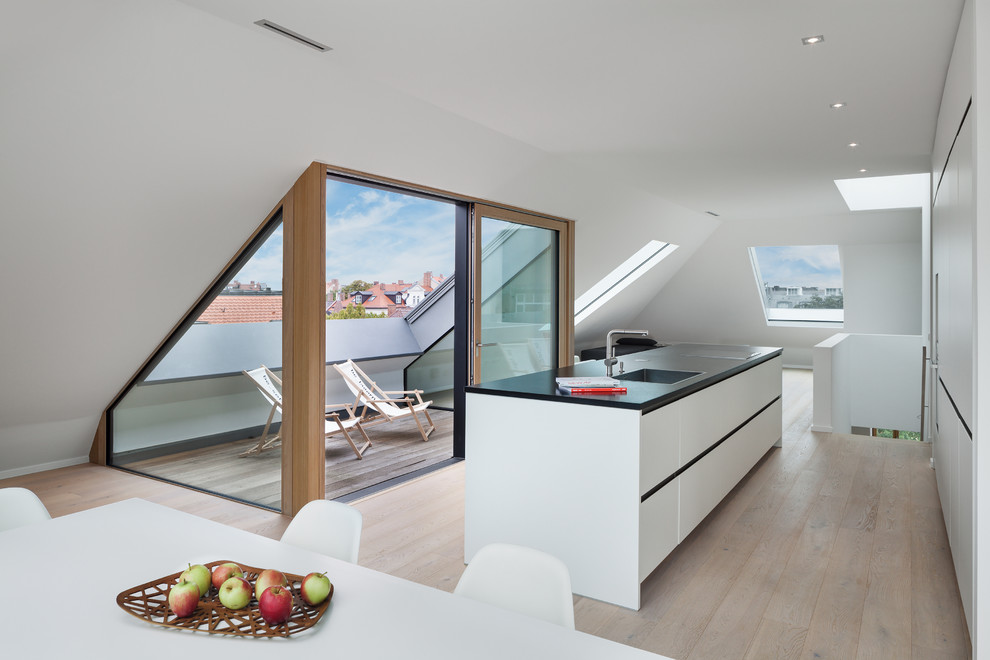 White is always the most favorite color, and can always work best when used. This is an example of a mid-sized minimalist open kitchen design in Munich with a drop-in sink.
Attic Rustic Kitchen Design
This Rustic kitchen design is just awesome. The open green cabinets, the wooden furniture and the beautifully organized utensils and appliances are just making it look perfect.
Attic Scandinavian Kitchen Design
Attic Shabby-Chic Style Kitchen
This shabby chic style attic kitchen design is perfect for any house. The choice of reclaimed wood on the ceiling and use of plants are making space look bright and energetic.
Attic Traditional Kitchen Design
This huge traditional single-wall dine-in kitchen idea in Hertfordshire with an under-mount wash basin, recessed-beige panel cabinets, black appliances, are just up to the marks.
Attic Tropical Kitchen Design
Attic Victorian Kitchen Design
Check out this Victorian kitchen design in Boston with the choice of glass-front white cabinets and marble countertops.